Jews welcome in Russia, Putin tells Europe's Jewish leaders
Comments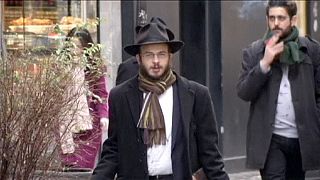 Russian president Vladimir Putin has met with European Jewish leaders to discuss their concerns over rising anti-Semitism on the continent.
During the meeting, Putin pointed out that many Jews emigrated from Moscow when it was part of the former Soviet Union. He said now they can come back.
The president of the European Jewish Congress, Moshe Kantor said the number of Jews fleeing Europe is also on the rise.
"The situation with the Jews in Europe is the worst it has been since the end of the Second World War," said Kantor. "The Jews are again in fear and a Jewish exodus from Europe is quite real. There are more Jews fleeing France, which is considered very secure, than from civil-war-torn Ukraine."
"Let them come here," said Putin. "They emigrated from here under Soviet Union, but now they can come back."
Marseille anti-semitic stabbing
Last week, a Jewish teacher in the French city of Marseille was the target of an anti-Semitic machete attack.
The victim escaped serious injury: protecting himself with a Torah he was carrying.
A 15-year-old boy has been charged with attempted murder on religious and terrorist grounds.
The attack has left the community in fear.