Gap between rich and poor is flagged as major concern in Davos
Comments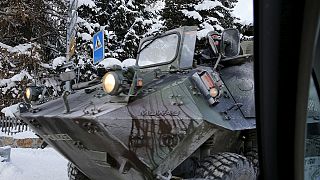 On the eve of the opening of the World Economic Forum (WEF) in Davos, its Chairman Klaus Schwab has flagged up several issues set for this year's influential talking shop. One is the root causes of the refugee crisis, another is the fact that 62 of the richest billionaires own as much wealth as the poorer half of the world's population.
The theme of this year's Davos gathering is the "fourth industrial revolution" – caused by fast and broad innovations in areas like robotics, driverless cars, 3-D printing and biotechnology.
Schwab said it could further widen the gap between rich and poor, adding it was his "biggest concern".
The impact of disruptive labour market changes including the rise of robots and artificial intelligence will result in the net loss of 5.1 million jobs over the next five years in 15 leading countries, according to an analysis published in Davos.
Politicians and business leaders are currently gathering in the Swiss Alps for the annual week of discussions on topics which affect the world's economies.
The World Economic Forum (WEF) was started by the academic Klaus Schwab in the 1970s. It began as a forum for a select few and has developed into a gathering of more than 2,500 participants, of which over 1,000 are chief executives or company chairs and 40 or so are world leaders.
This year, the likes of Leonardo DiCaprio, Will.i.am and Formula 1's Sebastian Vettel will be jostling for pole position against Bill Gates, Bono, Greek prime minister Alexis Tsipras and Canada's Justin Trudeau. The refugee crisis, climate change and rising interest rates are likely to be among the big themes.