Uber goes to new heights with Airbus
Comments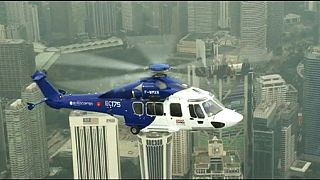 Uber is partnering with European aerospace company Airbus for an on-demand ride service with helicopters.
Airbus will provide the choppers for the trial at the Sundance Film Festival in the American state of Utah this month.
The movie world glitterati will also get driven to and from the helipad as part of the deal. There is no word yet on what this will cost.
In an interview with the Wall Street Journal, Airbus Chief Executive Tom Enders called it a "pilot project" which he described as "pretty exciting".
Airbus is seeking new customers for its helicopters in the face of reduced commercial demand. The falling price of oil has let to cutbacks at energy companies which were traditional big buyers and users of such aircraft.
Uber has provided helicopter services for high profile events in the past including the Cannes Film Festival and the Abu Dhabi Grand Prix but this is the first time it has partnered with Airbus.