Sanders tries to fry Hillary in final Democrat TV debate
Comments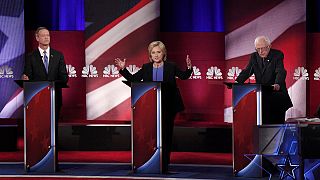 The Democrat party contenders for the 2016 presidential nomination felt the Bern in their last TV debate in the US as Bernie Sanders laid into frontrunner Hillary Clinton.
With the opening Iowa caucus on February 1 Martin O'Malley hardly got a word in, although he did join Sanders' attacks on Clinton's links to big business.
"I don't take money from big banks. I don't get personal speaking fees from Goldman Sachs. I do not have a Super PAC, I do not want Wall Street's money. I'll rely on the middle class and working families," thundered Sanders.
Hillary gave as good as she got, but Sanders pushed back each time. His rise in the polls in part encouraged Clinton to embrace Obama's legacy and back his policies, policies popular with Sanders' electorate.
"I have made it clear based on Senator Sanders own record that he has voted with the
N.R.A. with the gun lobby numerous times he voted against the Brady Bill five times. He voted for immunity from gun makers and sellers which the N.R.A. said was the most important piece of gun legislation in twenty years," she said.
If Sanders should win in Iowa and New Hampshire Clinton could lose support ahead of Nevada and South Carolina, and the crucial 11-state vote on Super Tuesday on March 1 in which she has been forecast to do well. A poor start could change all that.