Greek government pushes ahead with broadcasting reform despite stiff opposition
Comments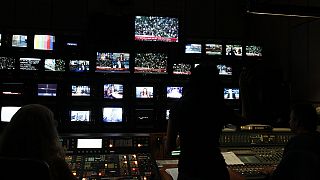 Reform of broadcasting rights legislation in Greece is close to implementation, despite strong resistance from opposition parties.
On Tuesday (January 19) the Conference of Parliament Presidents is expected to reach consensus on a new TV and radio regulator, ESR which will carry out an open international tender for broadcasting licenses. The new legislation will dictates how TV licenses are to be issued, the duration of their validity and in what circumstances they can be revoked.
It is the first time such a procedure has been introduced in Greece since the beginning of private television broadcasting. Greece is the only country in the EU not to have created any formal procedure and has maintained a regime of temporary licenses for 25 years.
However, opposition parties have attacked the government over the reform, arguing that it gives too much power to the minister who decides on the license bids, currently Nikos Pappas who is one of Prime Minister Tsipras' closest aides.
The government, for its part, is not relenting, stressing that the plan is included in the bailout deal with Greece's EU partners. "This is a part of the agreement and it is a major reform which contributes to transparency. The current regime is dark and unacceptable", a government source said.
Some months ago, the EU Commission asked for details of the media bill, saying it was not unusual to have an exchange of information between European and national authorities. According to Greek government sources, however, the EU Commission has never asked them for any amendment of the bill or any particular terms to be included.
Today, the EU Commission appears to have no appetite for what it sees as a Greek internal debate. An EU official told Euronews that "at this stage we don't want to comment on individual policies," added that "we are working in the framework of the Memorandum of Understanding".
What the memorandum for the ESM financing programme includes as a prior action is the announcement of an international public tender for the acquisition of television licenses and usage-related fees of relevant frequencies.
The procedure to regulate the awarding of TV licenses to broadcasters was approved by the Greek Parliament in October not only by the government majority but partly, also by three opposition parties (PASOK, Potami, Centrists).