Burkina Faso and Mali agree to work together to fight Islamic militants
Comments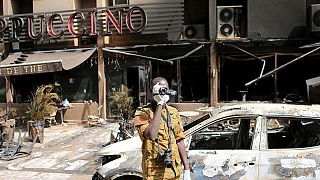 Burkina Faso and Mali agreed on Sunday to cooperate in countering the growing threat of Islamic militants in West Africa following two deadly attacks in the region.
Their prime ministers visited the scene of Friday's rampage by al Qaeda fighters in and around
a hotel in Burkina Faso's capital that left at least 29 people dead and dozens more injured.
"We are dealing with a type of unconventional warfare" Burkina Faso's premier Paul Kaba Thieba told reporters, as he visited the site with his Malian counterpart Modibo Keita.
"It is the kind of war that is asymmetrical. We must prepare ourselves to face it."
The bloodbath in Ouagadougou killed many foreigners including Canadians, French, Swiss, and Portuguese nationals. A nine year old Italian boy died when the extremists attacked a cafe run by his father.
It follows a similar raid in November on a luxury hotel in Mali's capital Bamako which left 20 people dead.