Afghanistan: suicide bomb 'kills man celebrating release from Taliban'
Comments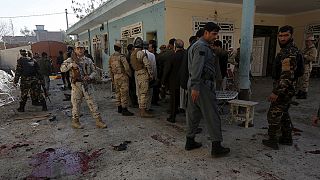 At least 13 people have been killed in a suicide bomb attack in the eastern Afghan city of Jalalabad.
The blast appears to have targeted the home of a tribal elder, where a group had gathered to celebrate his son being released from Taliban captivity, local authorities reported.
The son was among those killed.
Suicide bomber kills 13 in Afghan city Jalalabad in second deadly attack in a week. https://t.co/CPhzVjY4kWpic.twitter.com/pDBDPpO6W5

— The Straits Times (@STcom) January 17, 2016
A spokesman for the provincial governor said the elder and at least 13 other people were wounded in the explosion.
No one has claimed responsibility for the attack, however a Taliban spokesman denied the group was involved.
At least 13 civilians killed and 14 others wounded in a suicide attack in #Jalalabad, #Afghanistan. pic.twitter.com/PRefL92tgW

— Haidar Sumeri (@IraqiSecurity) January 17, 2016
Afghanistan has been the target of several bomb blasts in recent weeks, hindering the latest efforts to recommence a peace process with the Taliban.
A week earlier the self-titled Islamic State — or ISIL — claimed its first attack on a major town centre in Afghanistan. Its assault on the Pakistani consulate in Jalalabad killed seven people.