'We respect the values of German society' say Syrian refugees
Comments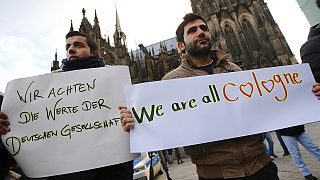 Syrian and other refugees gathered in Cologne on Saturday to demonstrate their willingness to accept the German way of life, in an effort to ease tensions after New Year's Eve sex attacks in the city that were blamed on migrants.
Racism and hatred of people from other countries or refugees is not allowed here
At least 300 people took part in an event aimed at showing the asylum seekers' adopted home that they want to live in harmony with its lifestyle and culture.
'We respect the values of German society' and 'No to Sexism, No to Racism' could be read on banners held aloft.
The attacks in Cologne have put pressure on Chancellor Angela Merkel's  "open door" refugee policy.
Chancellor Merkel faces growing pressure as German gangs seek revenge against foreigners https://t.co/UXFptwB3qapic.twitter.com/gw6bU8QAzE

— Yahoo News (@YahooNews) 11 Janvier 2016
But in Stuttgart too, thousands of demonstrators came together on Saturday to defend living together and to denounce xenophobia and violence against asylum seekers.
"I think this is a very important event because a very strong signal is being sent from our city that racism and hatred of people from other countries or refugees is not allowed here," said one woman.
"After New Year's Eve, we must be careful not to mix the issue of hostility towards women with racism," another woman taking part in the demonstration added.
Germany took in 1.1 million refugees and migrants last year, more than any other European nation. Many are Syrians who have trekked across Europe after fleeing war in their homeland. Others include Eritreans, Afghans and Iraqis.
With thousands of migrants still streaming into Germany every day, protesters want to tackle head on a backlash by right-wing nationalist groups.