Peterhansel chalks up his 12 Dakar Rally victory
Comments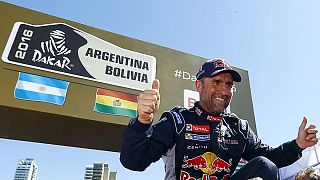 Stephane Peterhansel won his 12th Dakar Rally after crossing the finish line of a drama-free 13th stage of the race in Rio Cuarto, Argentina.
The 50-year-old beat Qatar's 2015 winner Nasser Al-Attiyah by 34 minutes and 58 seconds to secure Peugeot's first victory in the race since 1990.
This is the sixth victory of Peterhansel in the Dakar behind the wheel of a car. The Frenchman has also racked up six victories on a bike in the event.
Decorated WRC Sébastien Loeb won the 13th stage.
Toby Price became the first Australian to win any category of the race.
The 28 year old, who came third last year on his debut,claimed five stage wins on his way to winning ahead of Slovakia's Stefan Svitko by 39 minutes.
The rider from New South Wales clinched his title by coming home fourth on the 180km final stage.