Al-Shabaab militants claim to have killed 61 Kenyan soldiers in Somalia
Comments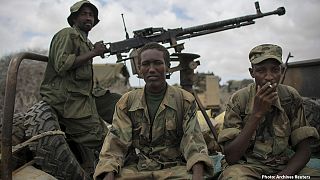 Al-Shabaab militants claim to have killed 61 Kenyan soldiers in an assault on an African Union military base in south-west Somalia.
The fighting is still going on ... and the number of casualties on both sides is unknown.
The Islamist insurgents also say they have captured the town of El-Adde, near Somalia's border with Kenya.
AMISOM can confirm that there was an attack on our troops in El-Adde. More to follow with factual details. #Somalia

— AMISOM (@amisomsomalia) January 15, 2016
Reports suggest the al-Qaeda-aligned group is battling government forces for control of the base.
However, al-Shabaab says it is now in command after sending in a suicide bomber to ram the gates of the compound.
Some soldiers are said to have escaped.
Speaking on behalf of Kenya's Defence Forces (KDF), Colonel David Obonyo said al-Shabaab troops had overrun a Somalia National Army camp located close to a KDF-run base.
"(Kenyan) troops under (African Union auspices) counter-attacked … The fighting is still going on … and the number of casualties on both sides is unknown," he said in statement.
Past incidents have seen the militants exaggerate casualty figures, while the Kenyan government has tended to play them down.
Somali military official, Colonel Farah Surrow, confirmed Kenyan troops and around a dozen Somali soldiers were posted inside the African Union base.
"AMISOM (African Union Mission in Somalia) has gone out of the town and base for strategic reasons," he told Reuters news agency from his post around 100 kilometres from the compound.
This is the biggest attack on an African Union base since September 1, 2015, when there was a raid on a base in Janaale, southern Somalia.
In an effort to impose its brand of Islamic law, the militant group has been waging an insurgency in Somalia since 2006. The country has been used as a base for attacks on both Kenya and Uganda.
Despite Somalian forces driving the Islamists out of the capital, Mogadishu, in 2011, the group has continued to carry out deadly gun and bomb attacks across the nation.