Paris cafe reopens after terror attacks
Comments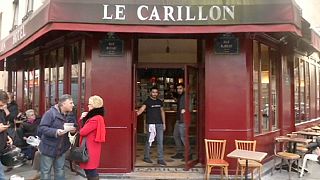 Two months after 15 people were shot dead at its tables during a wave of shootings in Paris, and the Carillon cafe has reopened for business.
The local bar in the trendy east of Paris became one of the symbols of November's attacks which cost 130 lives and left hundreds more people wounded.
In the days afterwards, the pavement outside was littered with flowers and tributes to the victims, becoming one of the many makeshift shrines to spring up at the sites of the attacks.
Now with its reopening its become a different kind of symbol, one that shows "life goes on".
It is not the first cafe to reopen since the coordinated gun and suicide bomb attacks, though the Bataclan concert hall which was the scene of the bloodiest shootings remains closed.
https://t.co/iGXRqPoTm7PARISDEFIANT: Diners pack out iconic cafe as it reopens two months… https://t.co/XmJXn4InrY#PeritoEnGrafoscopia

— Peritos Forenses (@Perito_Forense) January 13, 2016