IJF brings judo to refugee kids
Comments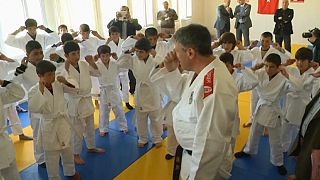 The Kilis refugee camp in Turkey is for refugees fleeing the Syrian Civil War.
It hosts some 17,000 Syrian refugees, of which 10,000 are under 15 years old.
It is one of the six "container camps" opened by Turkey, which seeks to offer a higher quality of life than the traditional tent camps.
The international Judo Federation has recently played a crucial role in helping these kids enjoy "a small island of happiness" according to IJF president Marius Vizer.
The IJF's Judo for Peace project has made available coaches and equipment to implement the programme which ran almost every week throughout 2015.
Such was the success of the project – it has recently won the the prize for creativity by international sports federations.
Currently around 300 children are taking part in the project on the Turkish-Syrian border.
The IJF now plans to extend the initiative within the Kilis refugee camp and also to target other camps.