Platini and Blatter still facing life bans
Comments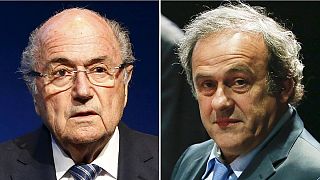 Sepp Blatter and Michel Platini could still be facing lifetime bans from football after Fifa's ethics investigators decided they will appeal the pair's eight-year suspensions.
The ethics committee's investigatory chamber confirmed it disagreed with last month's ruling of its adjudicatory chamber, saying the bans were unduly lenient.
Outgoing FIFA president Blatter and his once likely successor Platini – head of Uefa – were found guilty of breaching the governing body's rules of ethics concerning a 1.8 million euro payment made by Blatter to Platini in 2011.
But the two escaped potential lifetime bans when the adjudicatory chamber found no evidence of bribery linked to the payment.
The latest development means there will be appeals from both sides now as Blatter and Platini have also announced they will take their case to the Court of Arbitration for sport in a bid to overturn their bans – although they will first have to go through the FIFA appeals committee.