Syrian opposition casts doubts on peace talks after claims of Russian bombing
Comments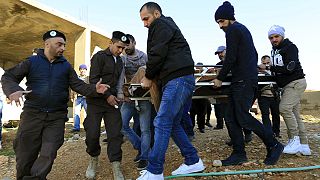 Syria's opposition co-ordinator Riad Hajab claims three schools in the rebel held town of Injara were bombed by Russian jets killing 35 children. Other reports suggest 12 died in the attack.
Hajib made the allegations after a meeting with French President Francois Hollande. He is set to lead the opposition in peace talks with the government later this month in Geneva
"We want to go to these negotiations, we want to negotiate, we are serious about it but to do that the conditions have to be there. We cannot negotiate with the regime when there are foreign forces bombing the Syrian people," he told reporters.
Hajib said Moscow was flaunting United Nations Security Council resolutions by bombing civilians and urged the UN to ensure Russia respected its humanitarian obligations.
Moscow has made no immediate comment on the bombing but has denied any targeting of civilians in the conflict.