Messi wins unprecedented fifth 'best player of the year award'
Comments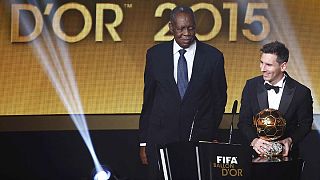 Lionel Messi has been named the best player of the year for a fifth time in his illustrious and trophy-laden career.
The Argentine superstar held off the stiff competition from his habitual rival for the award Cristiano Ronaldo and his Barcelona teammate Neymar.
28-year old Messi, who won the award four times in a row from 2009, was instrumental in Barcelona's trophy -filled 2015 and an unprecedented fifth accolade was almost a certainty in Zurich.
He scored 52 goals in the year and was key to helping Barca to the La Liga, Spanish Cup and Champions League treble.
After receiving the award from former Brazil international Kaka, who was the last player other than Messi and Ronaldo to win the accolade in 2007, the diminutive Argentina international said: "It's a very special moment for me to be back here on this stage, winning again another Ballon d'Or after watching from the front row Cristiano win it for the past two years.
''It's incredible that it's my fifth. Much more than anything I would have dreamed of as a kid. Finally I would like to thank football. It has taught me everything – good and bad. It has helped me to grow as a person and taught me everything about life.''
Ronaldo had been looking for a third straight gong.
But despite a contribution of 57 goals from their Portuguese talisman Real Madrid failed to win any major silverware – notably the league and Champions League – which appears to have cost him his third title.
Neymar was the only player that could have broken the Ronaldo-Messi duopoly on football's most illustrious individual prize since Kaka in 2007 – Messi was second that year and Ronaldo third.
Brazil international Neymar scored 45 times for his club last year and will no doubt be on this short list again.
Messi received 41% of the votes to Ronaldo's 27%. Neymar was third with 7% of the votes from the annual poll organised by football's world governing body.
Up and down
This week we've decided to choose only the positives in our ''Up & Down'' segment which include two terrific debuts and a stunning comeback.
Zinedine Zidane's reign in charge of Real Madrid could not have got off to a better start.
Called in to replace Rafa Benitez on the 4th of January, his first match at the helm was a 5-0 thumping of Deportivo La Coruna.
The best start for a new manager at the club in 57 years.
Joining the former France international is Alexandre Lacazette who scored the first ever goal at Lyon's brand new Stade des Lumieres.
Lacazette helped the struggling former French champions beat Troyes 4-1 for the club's first win since the 8th November.
Napoli are up, up and away and are now sitting pretty at the summit of the Italian first division.
Napoli beat Frosinone 5-1 becoming the Serie A's ''Winter Champions'' for the first time since 1990. That year they went to win the title that year – the second of their two league crowns.
The Road to Euro
Following a disastrous qualifying campaign the Netherlands will not be taking part in this summer's Euro2016 in France. It's the first time, since 1984, that the Oranjes will have to watch the tournament on TV. 28 years ago, though it was a completely different story.
The 1988 UEFA European Football Championship was held in West Germany. After having defeated the hosts – for the first time in 32 years – the Netherlands arrived into the final with great expectations. Nearly 60% of the Dutch population tuned in to see the Oranjes down the Soviet Union, thanks to Ruud Gullit and Marco Van Basten's goals. It was the first, and so far only, continental title for Netherlands.
We might be wrong
We're now going to tell you how we think a few selected league matches from across Europe will finish. Don't forget to send us your predictions, via social networks using #TheCornerScores.
Liverpool 1-2 Arsenal
Tottenham 1-0 Leicester
Saint-Étienne 1-1 Lyon.