Mexico recaptures notorious drug lord "El Chapo", six months after jail break
Comments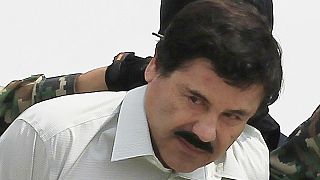 He made headlines around the world when he broke out of a maximum security prison through a long tunnel, but now he has been recaptured.
The notorious Mexican drug lord Joaquin Guzman, known as El Chapo, was first arrested in 2014.
"Mission accomplished" was the tweet sent out by the Mexican President after Guzman was recaptured in the northwest of the country.
He was tracked down to his home state of Sinaloa, where he is the head of a powerful drugs cartel.
Mexico says the operation was carried out with help from the US Drug Enforcement Administration and US Marshals.
During the raid it is reported five people were killed and half a dozen arrested.
Guzman faces extradition to the US, where he is wanted on charges including drugs trafficking and money laundering.