US doubts North Korean H-bomb claims
Comments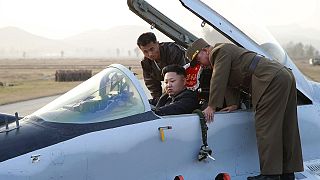 The UN plans to introduce a series of new measures against North Korea after the county's state run news agency announced that Pyongyang had successfully tested a hydrogen bomb.

BREAKING: North Korea has conducted a successful hydrogen bomb test, according to state TV https://t.co/HTCPT1zc09pic.twitter.com/Feb5POW6SH

— CNN International (@cnni) January 6, 2016
The United Nations held an emergency meeting at the request of the US, Japan and South Korea.

Official: U.S. seeks U.N. 'resolution with teeth' against North Korea https://t.co/LJpx7CiO3Jpic.twitter.com/YOgZgzpo5I

— CNN (@CNN) January 6, 2016
North Korea carried out its first nuclear test in 2006 and four have been reported since then.
However, this is the first announcement of an H-bomb experiment.

North Korea nuclear tests: What is a hydrogen bomb? https://t.co/9vebtPSmmkpic.twitter.com/8EuzX110jL

— The Telegraph (@Telegraph) January 6, 2016
As news of the test was announced nuclear scientists and the United States doubted the veracity of the claims.

White House Press Briefing with @PressSec Josh Earnest – LIVE online here: https://t.co/wkVmKeAGTHpic.twitter.com/riDhmgEwLa

— CSPAN (@cspan) January 6, 2016
Josh Earnest, a White House spokesperson, addressed the world's media:"This is a serious subject, the initial analysis that has been conducted on the events that were reported overnight are not consistent with North Korean claims of a successful hydrogen bomb test. There is nothing that's occurred in the last 24 hours that has caused the United States government to change its assessment of North Korea's technical and military capabilities.''

Watch South Korea's response to news that North Korea detonated a nuclear bomb https://t.co/v661zGXTnipic.twitter.com/OTRDFSPsvf

— MarketWatch (@MarketWatch) January 6, 2016
South Korea, all to familiar with the postering of its neighbour, believes there is no evidence of a H-bomb test, or even a failed H-bomb experiment.