North Korea claims big nuclear breakthrough with H-bomb test
Comments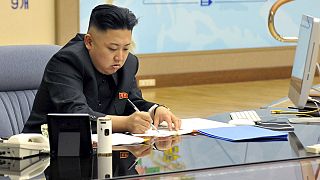 North Korea says it has successfully conducted its first test of a hydrogen bomb.
The test, the fourth time the isolated state has exploded a nuclear device, was ordered by young leader Kim Jong-un, North Korea's official KCNA news agency said.
But should the H-bomb claim be taken seriously?
The United States Geological Survey certainly reported a 5.1 magnitude quake that South Korea said was 49 km from the Punggye-ri site where the North has conducted nuclear tests in the past.
But it has not been independently confirmed that this was an H-bomb – which is more powerful than an atomic weapon.
And South Korean intelligence officials and several analysts have questioned whether Wednesday's explosion was indeed a fully-fledged test of a hydrogen device.
Mastery of H-bomb would give N. Korea more powerful weapon small enough to fit on missile, @yurikageyama writes https://t.co/ovBLIj9V0i

— The Associated Press (@AP) 6 Janvier 2016
On the streets of the North Korean capital, however, news of the test and claims of a significant advance in Pyongyang's strike capability, was a cause for rejoicing in pictures provided by state media.
Watching the announcement on big screens, people were filmed applauding and shedding tears of emotion.
"It is very refreshing. As long as the United States maintains its policy of aggression against North Korea, I think developing a hydrogen bomb is inevitable," said one resident, Yun Kuk Chol.
"I feel so relieved. I think it is obvious you need to counter a robber waving a nuclear stick – with a nuclear stick," added another man, Kim Jong Chol.
Exaggeration about its military capability would not be a surprise from North Korea.
Last month leader Kim Jong-un appeared to say that a hydrogen bomb had been developed by the reclusive nation but the United States and outside experts were sceptical.