Ukrainians march in honour of controversial nationalist hero Stepan Bandera
Comments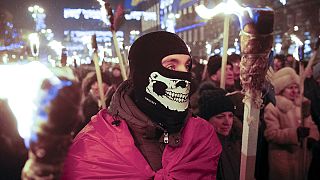 More than a thousand people have joined a march in the Ukrainian capital Kyiv, to mark the 107th anniversary of the birth of nationalist Stepan Bandera.
Chanting "Glory to Ukraine!" people waved the red and black flags of the country's nationalist movement and the blue and yellow flags of the far-right Svoboda, or "Freedom," party.
Bandera led the Organisation of Ukrainian Nationalists in the first part of the 20th century.
He is regarded in western Ukraine as a hero of the independence struggle, but regarded by many in Poland, Israel and Russia as a terrorist and Nazi collaborator who died with the blood of thousands on his conscience.
Bandera's controversial legacy has been at the centre of the protests that ousted Moscow-backed president Viktor Yanukovich and replaced him with a pro-European government almost two years ago.
After Yanukovich fled, Russia annexed Ukraine's Crimea in March 2014 and has been accused by Kyiv and the West of backing a rebellion by separatists in eastern Ukraine.