Rahm announces new measures in Chicago police shakeup
Comments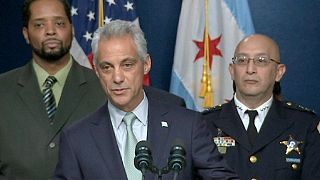 The increasingly-under-pressure mayor of Chicago Rahm Emmanuel has announced a raft of new measures he hopes will address public concerns about the city's police force.
They include new equipment, a doubling of tasers, and better training.
"These policies are not the end of the challenge. They are the beginning of the solution that Chicago has faced for decades. We can change the culture, piece by piece, policy by policy, to provide the safety that every resident deserves and to rebuild the trust where it has been lost," he said.
Not only has Chicago been caught up in the national sharper scrutiny of alleged police murders of unarmed African-Americans with incidents of its own, but it has gun crime problems specific to America's third-largest city.
Despite some of the strictest gun crime laws in the US, shootings are on the rise. It is of such concern that the city's guns problem is the subject of Spike Lee's latest movie, "Chi-raq".
The Chicago police has long struggled with the reputation that it was a law unto itself, and it has tended to close ranks when threatened with criticism in the past. At times it has appeared at odds with the administration and people it is supposed to serve, but now it is under scrutiny as rarely before.