Dubai: more than a dozen injured in massive skyscraper fire
Comments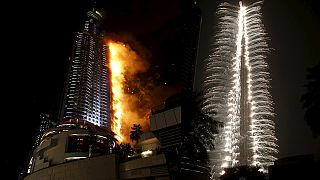 A massive fire has broken out in a high-rise apartment building and hotel in central Dubai, close to the world's highest skyscraper, the Burj Khalifia.
Burning debris could be seen cascading down from the 300 meter high, 63-storey structure known as the The Address Downtown Dubai.
Authorities say the building has been evacuated and the fire is under control. More than a dozen people are reported injured.
According to witnesses the entire building was swamped in flames. It is unclear what caused the blaze.
Thousands of extra security personnel were already in position ahead of a spectacular New Years fireworks display.
Despite the huge blaze officials decided to go ahead with the pyrotechnics.
As many as two million people were expected to attend the festivities.