Waiting to die: the hundreds condemned to years on death row in California
Comments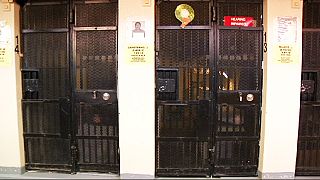 Hundreds of convicted killers are languishing in limbo on death row in California.
No-one has been executed in the state in almost a decade yet courts continue to sentence defendants to die.
Hence a build-up of condemned inmates at the state's San Quentin prison, north of San Francisco.
The media has been invited inside to meet them.
"Currently there are 725 individuals who are housed here at San Quentin on death row," Lieutenant Sam Robinson of the California Department of Corrections and Rehabilitation told reporters.
"The current death row population in the state of California is about 745. Those include women who are housed at another facility."
How Making A Murderer has been making people mad
Support for capital punishment has fallen in California where just 13 people have been executed since the death penalty was reinstated in 1978.
The most populous state in the country, California is liberal and a Democratic stronghold.
Some prisoners awaiting execution at San Quentin have been on death row for more than three decades.
Dozens have died of natural causes on California's death row, the largest in the United States, and 24 have committed suicide.
"Most of us sit here for years and years waiting on the appeals process, so it is not really something that is in the forefront of your mind," said Charles Crawford, sentenced to death in 2002 for killing two people including a teenage girl.
"It is like an abstract thought because it is not something that happens every day. Since I have been here, they have only carried out two executions, you know what I mean, so it is almost like it is not even a real punishment for a lot of people."
California's system for imposing and carrying out the death penalty is so long and drawn-out that it amounts to cruel and unusual punishment and is unconstitutional, a federal judge ruled in 2014.
Legal rows over drugs used in a series of botched lethal injections have contributed to a decline in the number of executions across the US.
Death penalty rates plunge to lowest level in the US since 1970s https://t.co/BpzRivmK6h

— The Guardian (@guardian) 16 Décembre 2015
Opposing camps in California are campaigning for the death penalty to be either speeded up or abolished altogether in 2016.