Russia enforces stricter currency exchange rules
Comments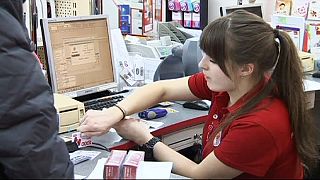 Russia has put into force measures to keep a closer eye on exchanges from rubles to foreign currency.
The Russian Central Bank has decreed that anyone wishing to exchange more than 15,000 rubles — which is in the region of around 200 euros — will need to provide a piece of ID, proof of address and information on their nationality and date of birth.
Officials say the measures are designed to thwart money laundering and the financing of terrorist organisations.
However, the combination of a weak ruble and surging inflation means people regularly convert their ruble savings into other currency.
With the Orthodox Christmas just around the corner, the change in regulation could cause problems for many Russians.