Hospital choir beats Justin Bieber and tops UK Christmas chart
Comments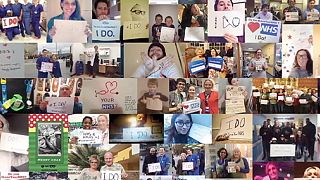 A lovely surprise for a good cause.
A London-based choir made up of nurses, doctors and other staff from British public hospitals beat Justin Bieber and took the No. 1 spot in the UK this Christmas with their single, "A Bridge Over You".
All proceeds from the song, a mash-up of Simon and Garfunkel's "Bridge Over Troubled Water" and Coldplay's "Fix You", will go to charities.
Justin Bieber urged fans to help
The Official Christmas No. 1 is a much desired spot in the British music world. Justin Bieber was likely to win the top spot with his song "Love Yourself" but the Canadian singer threw his support behind the National Health Service's choir on Twitter, calling on his fans to help them win.
so for 1 week it's ok not to be #1. Let's do the right thing & help them win. It's Christmas. Choir_NHS</a> good luck <a href="https://t.co/ORCtFY1k4i">https://t.co/ORCtFY1k4i</a></p>&mdash; Justin Bieber (justinbieber) December 23, 2015
The news left members of the choir feeling over the moon.
"It's fantastic. I mean, for the choir, just all these rehearsals when we hardly had anyone coming along because of shifts," said Carolyne Smith, a physiotherapist.
Congratulations! NHS Choir beat Justin Bieber to Christmas number one spot https://t.co/WTA7i08gUF#NHSworkingXmaspic.twitter.com/aRP67Sdvth

— The Telegraph (@Telegraph) December 25, 2015
Justin Bieber also congratulated the team.
Just heard the news. Amazing. That is what Christmas is all about. Choir_NHS</a> congrats!! Very cool</p>&mdash; Justin Bieber (justinbieber) December 25, 2015
The Canadian singer stormed the British charts in November with three singles from his new album in the top five, a feat no other artist has achieved since John Lennon, after his death, in 1981.