Innovative teaching to promote sustainability
Comments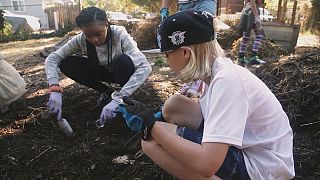 Overconsumption, pollution, global warming – we are living on a planet strained by decades of excess. So, how do we teach the next generation to face up to the future?
In order to want to take care of something, you have to fall in love with it first. And if students don't have the opportunity to touch the natural world and to fall in love with the process of growing food and cooking food and sharing it at the table, how can they be expected to take care of it?
In this edition of Learning World, we look at innovative educational initiatives, aimed at helping students better understand the world around them – and at stimulating them to make a real contribution to protecting and sustaining the planet.
Edible Schoolyard
What happens when gardens and kitchens become the backdrop for interactive study sessions for youngsters? Learning World visits the Martin Luther King middle school in Berkeley, in the US state of California, to find out.
There, we meet children whose education extends far beyond the classroom – with gardening and cooking key parts of their curriculum. The students have been developing a taste for understanding where their food comes from and how they can better look after the planet, as part of the Edible Schoolyard project.
From trash to treasure
Near the Colombian city of Medellin, a team of young environmental enthusiasts are on a mission to transform the notorious Moravia landfill site, which for decades was a rubbish dump. Through innovative initiatives, the team members are purifying the land that has been abused for so long. Today, much of the site is now made up of lush garden.
Click on the video at the top of this page to view these stories in full.
Share your views with us!
Were you taught about healthy eating and protecting the environment when you were at school? Should these topics play a bigger part in the curriculum?
Let us know your thoughts via the Learning World Facebook page and Twitter