Bethlehem Christmas festivities 'subdued' amid ongoing violence
Comments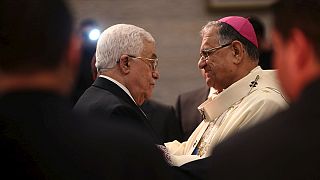 Christmas Day in the West Bank town of Bethlehem saw hundreds of Christians and tourists from around the world gather to celebrate mass at the Nativity Church, where Christians believe Jesus was born.
The mass was led by the Latin Patriarch of Jerusalem who also led midnight mass attended by Palestinian President Mahmoud Abbas and Palestinian Prime Minister Rami Hamdallah.
The Christmas festivities are low-key this year dampended by a surge in violence between Palestinians and Israelis.
The head of the Roman Catholic Church in the Holy Land delivered a message of peace and love amid the ongoing conflict.
Israeli forces or armed civilians have killed at least 124 Palestinians.
Since October, the region has seen stabbings, shootings and car-rammings by Palestinians kill 20 Israelis and one American.
The first picture is a Christmas card by Banksy, but this is what Bethlehem looks like now. pic.twitter.com/Cyg3ZOZJ1v

— afroarabian (@AfroArabian_) December 25, 2015