Hungary's campaign 'fuelling xenophobia towards migrants'
Comments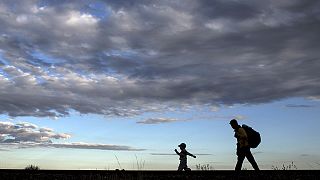 Hungary must stop fueling fear, intolerance and xenophobia towards migrants, says the UN's refugee agency.
UNHCR, in a joint statement with two other international organisations, has hit out at Budapest over a recent government publicity campaign.
They say the two-month initiative, which straddles Christmas and New Year, paints those fleeing war and conflict as 'criminals, invaders and terrorists'.
Hungary's foreign minister Peter Szijjarto rebuffed the criticisms, saying Budapest speaks the truth and offers protection to those that really have a need for it.
Hungary has been on the frontline of Europe's migrants crisis, which has seen more than a million arriving on the continent this year.
The majority of migrants have arrived via Greece, working their up to other parts of Europe, such as Germany, via Hungary.
Eurostat figures indicate Hungary has had around 176,900 applications for asylum in 2015, with numbers peaking in August, which saw nearly 50,000 requests alone. However since Hungary completed a border fence with Croatia in mid-October, applications have plummeted from 30,795 in September to 940 in both October and November combined.
UNHCR, the Council of Europe and the Office for Democratic Institutions and Human Rights said in a statement: "We urge Hungary to refrain from policies and practices that promote intolerance, fear and fuel xenophobia against refugees and migrants.
"The Hungarian government launched a new public campaign in December, portraying those fleeing war and conflict as criminals, invaders and terrorists based on their religious beliefs and places of origin."
Szijjarto, quoted by AFP news agency, said: "Hungary speaks the truth. It offers, like before, protection to those who really have a need. But it can not welcome dozens or hundreds of thousands of economic migrants.
"Besides, we have never affirmed that all migrants were terrorists but that with the uncontrollable flow of migrants the terrorist threat has increased in Europe."