Saudi-led strikes in Yemen criticised by the UN for hitting civilian areas
Comments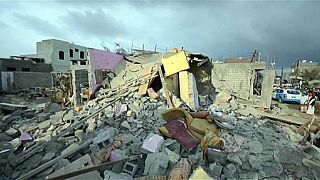 The Saudi-led military coalition operating in Yemen has been criticised by the UN over the number of civilian casualties and the infrastructure destroyed.
The comments came from the UN High Commissioner for Human Rights at a session of the Security Council, which held its first public meeting on Yemen in months.
Zeid Ra'ad Al-Hussein said: "I have observed with extreme concern the continuation of heavy shelling from the ground and the air in areas with a high concentration of civilians as well as the perpetration of the destruction of civilian infrastructure, in particular hospitals and schools by all parties to the conflict, although a disproportionate amount appeared to be the result of air strikes carried out by coalition forces."
Saudi Arabia intervened in Yemen's civil war last March, putting together an Arab coalition to try to reinstate the government ousted by Iran-allied Houthi rebels.
A UN-brokered ceasefire is supposed to have started on December the 15th, but it's been repeatedly violated.
A second round of peace talks are due to be held in mid January.