Refugees v migrants: the desperate battle to stay in Europe
Comments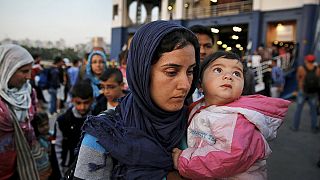 Arriving at a gateway to Europe, boats packed with migrants and refugees continue to land on the shores of the Greek island of Lesbos.
Almost eight-thousand people arrived on Sunday and Monday alone – many of them from northern Africa.
People from Syria, Iraq and Afghanistan are taken to a so-called "hot spot" for registration.
Those from Morocco, Tunisia, Iran and Pakistan are not defined as priority refugees.
They face having to return home, against their wishes.
Ahmed, who is from Morocco, told euronews that he arrived six days ago. He said there is nothing to eat and it is cold.
Rasidi, also from Morocco, added: "There's no solution for us to continue our journey.
"One must be found for all of us Moroccans. If we stay here, we will die."
Some of those arriving from Morocco, Tunisia, Iran and Pakistan are paying a high price to buy fake registration papers, so that it looks like they are Syrians, Iraqis or Afghanis. But they face tough police screening.
Sepehr, who is from Iran, says he paid 1,600 euros for fake Syrian documents.
He decided to stop being a Muslim, something that is considered to be an offence in Iran.
"There is no 20-year-old who would leave his family, who would leave his country for economic purposes. I had to leave my family, there was no way for me," Sepehr told euronews.
"I could go to prison for long years or I could get executed, just because I found my way in another religion. And I don't know what to do now."
A delegation of EU representatives has been to Greece to hear first hand from organisations working with refugees and migrants.
Zoe is a Greek volunteer, who has been helping on the ground for many months.
"The whole of Europe must feel that it should embrace these people. The governments should get that message. The war must stop," she said.
"People must be helped, so they feel they are wanted. There is no bigger poverty than being unwanted."
Reporting from Eidomeni, a Greek village on the border with the Former Yugoslav Republic of Macedonia, euronews correspondent Panagiotis Kitsikopoulos said: "The border with the former Yugoslav Republic of Macedonia is just beyond the tent behind me here.
"Eidomeni is merely a railway passage to northern neighbours.
"But for the refugees who reach here, it's one step closer to what's seen as the Promised Land: Northern and Western Europe."