Iraq army moves to oust ISIL militants from Ramadi
Comments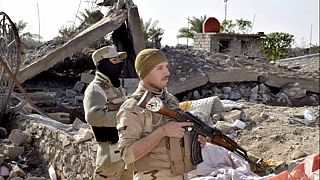 The Iraqi army has begun a final offensive to retake Ramadi from the self-proclaimed Islamic State, according to state television and government sources.
Armed forces stormed the city on Tuesday to try to oust militants, also known as ISIL, who have been there since May
The move to force out the Islamist, officially began last month with an attempt to cut off supply lines.
Retaking Ramadi, which is 100 km west of Baghdad, would provide a major boost to Iraqi security forces after Islamic State seized a third of the country.
Should the offensive succeed, Ramadi would be the second major city in Iraq, after Tikrit, to be retaken from the Islamic State.
Residents were advised to leave ahead of the operation. Military planes dropped leaflets telling them to leave within 72 hours and indicating safe routes for their exit.
But an Iraqi Defense Ministry spokesman claimed Isil militants were preventing some from leaving.
Iraq begins attack to recapture Ramadi center from Islamic State https://t.co/30lRE77FCK

— Reuters Top News (@Reuters) 22 Décembre 2015
"There is intelligence information from inside the city that they are preventing families from leaving," said Naseer Nuri.They plan to use them as human shields.