Bosnian police arrest 11 with Islamic State links
Comments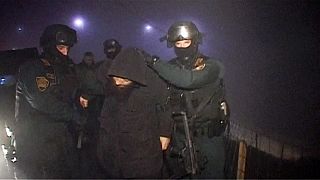 Police in Bosnia have detained 11 people suspected of links to the self-titled Islamic State group and militants fighting in Syria and Iraq.
Officials say the operation was continuing in 13 locations around the capital Sarajevo.
Prosecutors are targeting 15 suspects who have been investigated for "incitement of and recruitment for terrorist attacks" and believed to be in contact with Islamic State group militants, including persons fighting in Syria and Iraq.
During the search, which included two places of worship and private homes, police say they seized evidence that confirmed such links.
A spokeswoman for the police directorate of Bosnia's autonomous Bosniak-Croat Federation said: "Eleven individuals suspected of terrorism, financing of terrorists activities and recruiting Islamic State fighters have been arrested in raids on 13 locations."
More than 150 Bosnians have left to fight for Islamic State in Syria and Iraq over the past two years.