Accused army deserter Bowe Bergdahl appears in court
Comments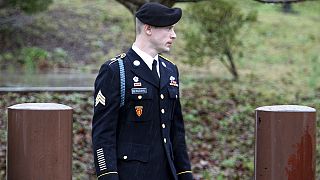 US army segeant Bowe Bergdahl, who has been charged with desertion, appeared before a court to ask for time on deciding whether a judge or a jury would hear his case.
Bergdahl was held captive by the Taliban for five years after he left his post in Afghanistan in 2009.
The sergeant walked off his post in protest at the poor leadership in his unit.
He was released in a prisoner swap in 2014.
Bergdahl was charged earlier this year with desertion and endangering US troops. The latter offence comes with life sentence.
HIs case courted caused controversy with some in the military resenting the resources that were used in searching for him.
While President Barack Obama was criticised for the deal that led to his release in a prisoner swap with the Taliban.
A military judge granted him more time to decide who would hear his case. Bergdahl's next court appearance is set for January.