Scores killed, over a hundred injured as air strikes target rebel-held city in northwest Syria
Comments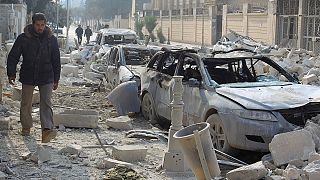 Air strikes thought to have been carried out by Russia have reportedly killed scores of people and injured many more in the rebel-held city of Idlib in northwest Syria on Sunday.
Rescue workers and residents said at least six strikes hit a busy market place, government buildings and residential areas.
They said many people were still buried under the rubble and that at least 150 had been injured, with some of the most serious cases being taken to hospitals in Turkey.
Idlib is the capital of the northwest province of the same name. It has become an important centre for the rebel-held region of the country after being captured earlier this year buy a coalition of insurgent groups.