Yemeni warring factions agree to second round of peace talks
Comments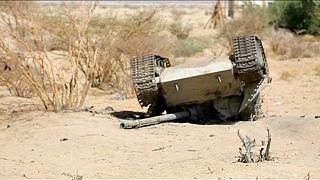 A second round of peace talks between the warring factions in Yemen has been agreed for January 14th.
Unfortunately the trust between the two parties is almost, I would say, nil
A first round ended without agreement in Switzerland, but the UN says progress has been made.
Ismail Ould Cheikh Ahmed, the UN Special Envoy for Yemen, told reporters: "We have developed the general and strategic framework, which captures in fact the entire content of the agreement, that we are hoping to achieve between the parties.
"In addition to that we have been able to develop a number of confidence building measures, that will ensure that this framework is coherent and is supported by a base, because unfortunately the trust between the two parties is almost I would say nil."
There are new calls for a ceasefire ahead of the second round of talks, however.
A truce that was supposed to come into force last Monday has not been respected in some parts of the country.
This as Yemeni troops loyal to President Abd-Rabbu Mansour Hadi gained control of the strategic northwestern province of Jawf.