Clashes in Turkey as Kurds protest against curfews and crackdown on PKK militants
Comments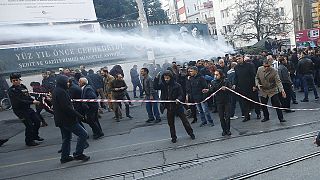 Hundreds of protesters continue to clash with police in the southeast of Turkey, as demonstrations against a military operation said to be targeting Kurdish militants goes into its seventh day.
The government says more than 110 militants have been killed in gun battles. Three policeman are also reported to have been killed.
Many of the areas where demonstrations have taken place, close to the Iraqi and Syrian borders, have been under curfew for almost a week.
A ceasefire that lasted for two years between the government and the Kurdistan Workers Party or PKK fell apart in the summer.
Local media reports that some 10,000 police and soldiers are involved in the security crackdown on the PKK, with armoured vehicles and tanks providing backup.