Protesters pile pressure on Poland's government
Comments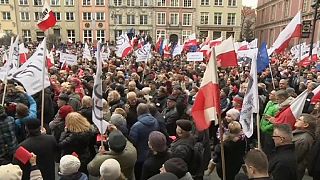 Anti-government protesters have been taking to the streets in cities across Poland.
Critics say the administration, formed by the eurosceptic Law and Justice (PiS) party, is emulating Hungary's Prime Minister Viktor Orban in undermining democratic checks and balances.
The government says it has to strengthen its hold over state institutions, ensure the country's voice is heard abroad and share economic progress more evenly.