Beumi wins in Puenta del Este to lead Formula E Championship
Comments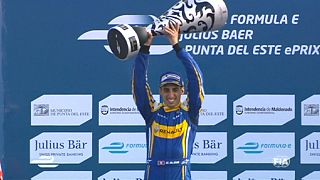 Sebastian Buemi took the chequered flag in the Puenta del Este race of the FIA E series. It was a double victory as he now tops the championship after the third round.
The Swiss driver started from fifth on the grid after a poor qualifying session. He worked his way through the traffic and from second on lap eight he overtook Jerome d'Ambrosio who had started on pole.
He was in command from that point with the chasing pack looking for an advantage. It was Lucas di Grassi who got that after the pit stop to come in second.
The race was marked by a spectacular crash in the closing laps. There was a coming together between Jean Eric Vergne and Nelson Piquet junior who was challenging in eighth.
The two tangled on one corner with Piquet defending his position but he locked up on the next corner hitting the barrier and spinning across the track. It was the end of the reigning champion's race.
The win gives Buemi a one point lead in the championship over Lucas di Grassi. Jerome D'Ambrosio was third.
The next round is in Buenos Aires at the start of February.