Violence in Diyarbakir as Turkish crackdown on PKK continues
Comments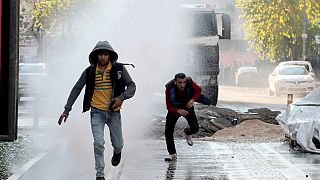 Turkish security forces have clashed with protesters in the mainly Kurdish south east of the country.
The violence comes a day after Turkish President Recep Tayyip Erdogan announced that the Kurdistan Workers Party fighters would be "annihilated."

Police intervene in group attempting to walk to Diyarbakır's Sur https://t.co/nmRms3zF6rpic.twitter.com/f6df9zYvLh

— Cihan Dış Haberler (@Cihan_Dishaber) December 18, 2015
Thousands gathered in Diyarbakir, the regions largest city, to protest against the Turkish crackdown in the towns Silopi and Cizre.
#Turkey: Kurds attend funeral of 2 young men killed by Turkish regime forces in #Diyarbakir, Kurdistan. pic.twitter.com/MZhSyiDZrH v @avahaptas

— curdistani (@curdistani) December 15, 2015
The demonstration comes as authorities announced that 54 Kurdish fighters have been killed in three days of urban fighting.

State forces in Şırnak's #Cizre district raid and seize houses in Cudi and Sur neighborhoods, force people to leave. pic.twitter.com/W4WLGYTTKX

— Kurdistan Report (@ReportKurdistan) December 18, 2015
Turkey placed Silopi and Cizre under curfew on Monday and deployed 10,000 troops, backed by tanks to the region.

Tanks, armoured vehicles & soldiers in the streets of #Silopi where curfew entered the 4th day #TurkeysWaronKurdspic.twitter.com/GYrCgdUnhB

— Cahida Dêrsim (@dilkocer) December 17, 2015
A PKK ceasefire collapsed in July reviving a three decade conflict that has left 40,000 people dead.