Traffic fumes pushing Tehran's pollution to alarmingly high levels
Comments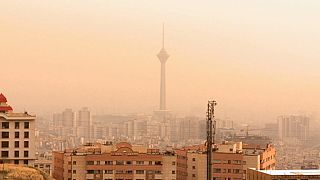 There is concern in Iran about high pollution levels.
The past few days have been particularly bad in the capital, with the government acknowledging that the air quality is unhealthy for the city's residents.
"My child almost couldn't breathe today," one woman told euronews. "I had to take him to the doctor. I don't often leave home, but I was forced to do so today."
Iran's Ministry of Health says some 5,000 people die every year from the effects of pollution in Tehran and 80,000 across the country, mostly from traffic fumes.
Mohammad Rastegari, the head of the Air Pollution Monitoring Centre in Tehran Province, said: "About three to four million cars are on the roads in Tehran and they were produced with lower standards years ago.
"There have been comprehensive plans to fight this and annual vehicle checkups are going to be stricter."
Our correspondent in Tehran, Javad Montazeri, reported: "Although the efforts have reduced the number of polluted air days in a year, people in Tehran still spend 30 percent of the year breathing dirty air, and sometimes it rises to the danger level."