Peru opens museum to remember victims of armed conflict
Comments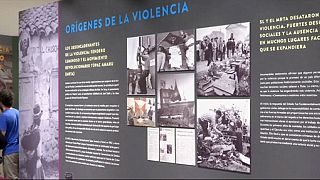 Peru is remembering the victims of 20 years of armed conflict.
The country's president has officially opened a memorial museum in Lima called the Place of Memory.
Between 1980 and 2000 an estimated 70,000 people died in fighting between government forces and leftist insurgent groups, including Shining Path rebels.
Ollanta Humala, the President of Peru, told those gathered at the opening: "This place must bring us together, so these types of terrorist acts never happen again. They must remain in the past.
"And we must remember so as not to repeat history."
One woman who struggled to find answers about her missing son was there for the museum opening.
Raida Condor said: "(This is important) in order to remember the past, the many people like my son Armando who went missing, murdered like many people, many children."
The insurgency began to crumble in the early 1990s when the leader of the Shining Path group was captured.
A Truth and Reconciliation Commission was later set up to investigate the killings and disappearances.
#Peru addresses years of violence with Place of #Memory, #Tolerance, and Social Inclusion Museum http://t.co/kAGWXIeJFo

— Law Justice Culture (@OhioULawCenter) July 14, 2014
#Peru's 'Place of Memory' remembers those who died during 2 decades of violence: http://t.co/IAd1MJ36ZI

—

CCTV

America (@CCTV_America) June 7, 2014