Putin sticks the boot into Turkey in annual address
Comments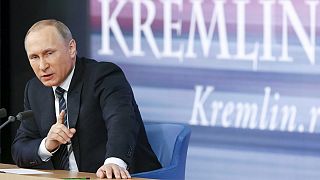 Russian President Vladimir Putin, in his annual television marathon address to the nation, has been especially harsh towards neighbour Turkey.
Relations between Moscow and Ankara are at a nadir over Russia's intervention in Syria, and Turkey's shooting down of a Russian jet, which Putin said might have been done to "please the USA".
"On the level of bilateral state relations I don't see prospects to improve ties with the current Turkish leadership, but on a humanitarian level, I certainly do," he said.
Since the downing of the plane Russia has accused Turkey of fostering terrorism and supporting ISIL, including selling the oil it has taken control of in Syria. Putin sees Turkey as playing a double game.
"You've asked whether there was a third party to this situation. I understand what you mean. We don't know. But if the Turkish leadership decided to lick some part of the Americans' anatomy, I'm not sure they did the right thing," Putin continued.
Russia and Turkey have been regional rivals for over 150 years, one reason Turkey became a NATO member, and while relations have rarely been cordial, they have rarely been as toxic as they are today.