Putin's annual address offers snapshot of Russian world view
Comments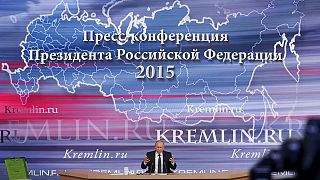 The television address gave a snapshot of Putin and Russia's view of the world, a sort of parallel universe where corrupted public figures are credible Nobel Peace Prize winners, and the European far-right represents a reforming force within the EU.
There was much about Syria and Turkey, but a deafening quiet about other recent hot issues such as Ukraine, although Putin did for the first time acknowledge that there were Russian military personnel active in the Donbass region of eastern Ukraine, something Kyiv has insisted on since the start of the conflict, but that the Russians have always denied.
Seen through the Russian prism the world is a dangerous place exploited by a US-led western hegemony, but Russia stands by, strong and united, ready to play a global role.
"As for Joseph Blatter, he is a highly respected man. He has done a lot for the development of world football. He is the person who should have been awarded Nobel Peace Prize," said Putin, straight-faced.
It is a vision that sees Donald Trump as a strong leader, and a person Russia can do business with if he wins the US presidency.
For virtually the first time Putin offered comments on his personal and family life, which until now has been strictly off-limits, and gave news about his daughters.
"They are making the first steps in their careers and they are successful. I never discuss questions related to my family. They are not involved in business. And they are not involved in politics. They are not pushing for this," insisted Putin.
Little is known about Putin's daughters. In April 2014 Katerina Tikhonova competed at the World Rock'n'Roll Acrobatic competition in Poland with Ivan Klimov.
According to Russian opinion polls Putin currently revels in a 90% approval rating and his face is everywhere on tourist souvenirs. Barring a major mishap, he looks set to stay there.