Yemen: Both sides accuse the other as ceasefire breaks down
Comments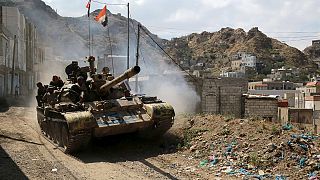 Up to 42 people have reportedly been killed as the recently-brokered truce in Yemen appeared to be in tatters.
Both sides had agreed to a ceasefire in support of a prisoner exchange and to bolster United Nations-sponsored peace talks which resumed for a second day in Switzerland.
But clashes have broken out in the central city of Taiz and in several of the country's regions.
The civil war has raged for nine months between the Iran-allied Houthi movement based in Yemen's north and Saudi-backed southern and eastern fighters loyal to President Abd-Rabbu Mansour Hadi
Both sides have accused the other of breaching the deal.
Amin Abdulla, a Pro-Hadi fighter, said: "The Houthis are the ones that rejected the United Nations and Security Council resolutions and carried out attacks and struck residential homes and civilians and we are just defending ourselves."
The prisoner swap would be one of the most positive signs yet in the civil war.
Some 360 members of the Houthi movement held in Aden will be exchanged for 265 southern civilians and fighters and both groups were en route by bus toward the exchange venue, according to officials.