The US Republican debate - blow-by-blow
Comments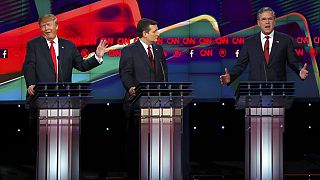 Debate "a lively affair"
Donald Trump is a "chaos candidate" – Jeb Bush
Focus on national security and foreign policy
Trump's "ban Muslims" rhetoric barely mentioned
Trump got his toughest treatment yet. His response? Preening and sulking – FrankBruni</a> <a href="https://t.co/tGmrIt73eA">https://t.co/tGmrIt73eA</a> <a href="https://t.co/EzADSJtHcR">pic.twitter.com/EzADSJtHcR</a></p>&mdash; NYT Opinion (nytopinion) 16 Décembre 2015
National Security Issues Expected To Be Highlight Of Tonight's Republican Debate https://t.co/kwEo0BpqwDpic.twitter.com/dIEIOaLBRu

— BuzzFeed News (@BuzzFeedNews) 16 Décembre 2015
Republican Party presidential hopefuls gathered in Las Vegas on Tuesday night for their fifth and final televised debate of 2015.
Held in the US city famous for its heavyweight boxing matches, this was a lively bout.
In the ring
The main protagonists were Donald Trump, Senator Ted Cruz, retired neurologist Ben Carson, Senator Marco Rubio and Jeb Bush.
All five appeared in the main debate, along with New Jersey Governor Chris Christie, Ohio Governor John Kasich, US Senator Rand Paul of Kentucky and former corporate executive Carly Fiorina.
Seconds out, Round One
Jeb Bush to Trump: "You're not going to be able to insult your way to the presidency." https://t.co/ulFAmvRIwBpic.twitter.com/zcwLBnCyeq

— Bloomberg Business (@business) 16 Décembre 2015
Donald Trump to Jeb Bush: "I'm at 41% and you're at 3%… Pretty soon you'll be off the stage" #GOPDebatepic.twitter.com/60U41Gg1sH

— Daily Mail US (@DailyMail) 16 Décembre 2015
Challenger Jeb Bush locked horns early on with front-runner Donald Trump.
"Donald, you know, is great at the one-liners, but he is a chaos candidate. And he would be a chaos president. He would not be the commander-in-chief we need to keep our country safe." Bush said.
Trump fired back immediately with a quip about Bush's poll ratings.
"Jeb does not really believe I am unhinged. He said that very simply because he has failed in this campaign. It has been a total disaster. No one cares."
Round Two
Cruz and Rubio momentarily switch bodies. #GOPDebate#FreakyDrydaypic.twitter.com/77RnpMr317

— The Daily Show (@TheDailyShow) 16 Décembre 2015
"So far, Trump is not the main target of attacks, and neither is Cruz. It's Rubio." https://t.co/DTUpWKz3F4pic.twitter.com/FnDR0yyvqm

— The New York Times (@nytimes) 16 Décembre 2015
Ted Cruz and Marco Rubio also squared up to each other.
The two first-term senators, one from Texas and the other from Florida, made it clear each sees the other as the primary obstacle to securing the nomination if the current front-runner Donald Trump falters.
They sparred on Middle East policy, national security and immigration.
"The Cruz-Rubio battle is now a defining dynamic in this race," said
Republican strategist Ford O'Connell.
Round Three
In Republican debate, tough talk on terror reveals party's rifts https://t.co/G8LGHAMvUx#GOPDebate by GeraldFSeib</a> <a href="https://t.co/bwtTqE5t9V">pic.twitter.com/bwtTqE5t9V</a></p>&mdash; Wall Street Journal (WSJ) 16 Décembre 2015
After personal sparring, the debate broadened out to issues of national security and foreign policy.
It is the fifth televised Republican candidate debate to be held this year, but the first to take place since the mass shootings in Paris and San Bernardino, California.
It also comes after Donald Trump's much-publicised call to ban Muslims from entering the United States, although this barely merited a mention. Jeb Bush dismissed it as "not serious."
Carly Fiorina: Tech companies need to be asked, not forced to hand over data https://t.co/7RzJn0xQX5pic.twitter.com/R3Jek4fz0W

— Mashable (@mashable) 16 Décembre 2015
Candidate and former Hewlett Packard Chief Executive Carly Fiorina wants institutional procedure tightened up.
"Processes that have been in place since 9/11 are woefully inadequate as well. What do we now know? That the DHS (Department of Homeland Security) vets people by going into databases of known or suspected terrorists. And yet, we also know that ISIS is recruiting people who are not in those databases. So of course we are going to miss them. And we now learn that the DHS says "No, we can't check their social media." For heaven's sake, every parent in America is checking social media and every employer is as well, but our government can't do it."
And the winner is?
The Republican Party does not nominate its presidential candidate until its national convention in summer 2016.
However, the latest Reuters-Ipsos opinion poll carried out after the last Republican debate in November, showed him leading the field with support of 28 percent among Republican voters.
​
Cruz was second at 15 percent, followed by retired neurosurgeon Ben Carson at 12 percent.
Marco Rubio was at 10 percent and Bush at 9 percent.
Interesting fact
Community Post: How Obi Wan Kenobi Anticipated The Higgs Boson Particle – https://t.co/EWFWjHPF7ppic.twitter.com/KtdniT634c

— All Science Globe (@AllScienceGlobe) 15 Décembre 2015
In a recent poll pitting the characters from the Star Wars film franchise against potential presidential candidates from all political parties, US voters chose Obi Wan Kenobi for the job of president.