Indictments, extraditions, pleas of not guilty and protests - the FIFA drama continues
Comments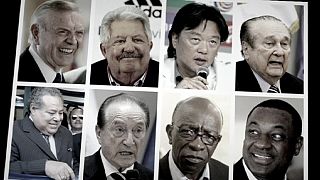 The drama continues in what seems to be FIFA's never-ending corruption saga.
This week former FIFA vice president and ex-president of the South American football federation Juan Angel Napout, pleaded not guilty to charges of bribery in New York following his extradition to the US.
A 20-million dollar bond package agreed to by Napout has cleared the way for home detention until his trial.
Eduardo Li – the former president of the Costa Rican football federation – has dropped his appeal against extradition to the States and is one of 16 current and former FIFA officials indicted by the US Justice department on charges of bribery, wire fraud and money laundering.
So far a total of 41 people and entities have been charged.
Among them is former Honduras President Rafael Callejas, who like Napout, pleaded not guilty to bribery at the federal court in Brooklyn this week.
Callejas, also the former Honduran football federation chief, has denied wrongdoing and says he is ready to defend himself.
He flew to the US on his own accord after being indicted.
His lawyer, Tito Hernandez, said: "Mr. Callejas travelled by himself. He is not accompanied by any Honduran or American authority. His hands or feet are not in cuffs. He presents himself to the court in the US voluntarily."
Elsewhere, protests continue in Brazil where calls for the resignation of the country's federation president grow louder.
Some of the country's biggest sports stars, including Pele and Zico, have signed an open protest letter in a bid to force Marco Polo Del Nero out and for authorities to investigate corruption inside the national game.
Former Brazil international Rai said: "We, this entire group and society here represented, demand the definitive resignation of Marco Polo Del Nero and his directors, followed by free and democratic elections for leadership of the Brazilian football confederation."
Del Nero and his predecessor Jose Maria Marin have both been indicted by U.S. on charges of racketeering, wire fraud and money laundering conspiracies – wide-ranging corruption charges that continue to send foundation-crumbling shockwaves through world football's scandal-hit governing body.