Russians and Americans report "common ground" over Syria
Comments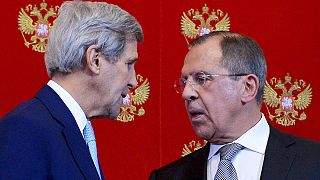 The Russians and Americans have met in Moscow to discuss Syria, and it seems they have agreed on common ground from where they can move forward together, and will meet again in New York on Friday. They also appear to have agreed which opposition groups they will recognise at any future peace talks.
John Kerry sounded cautiously optimistic after talks with President Vladimir Putin and his foreign minister Sergei Lavrov. Lavrov, having been told by his boss to get more sleep, may be happy with the progress.
"We support the idea of reassembling in New York this Friday December 18th for the next regular meeting of the international group of support for Syria at the ministerial level and we expect that by the end of that meeting with the consent of all the members of the group, we would present the draft resolution to the UN Security Council," he said.
John Kerry sounded slightly more flexible on the thorny question about what to do with Bashar al-Assad.
"The US and our partners are not seeking so-called regime change as it is known in Syria. What we've said is that we don't believe that Assad himself has the ability to be able to lead the future Syria," he said.
Several opposition groups have said they would fight on rather than sit down to talk with Assad, a position that could threaten any peace negotiations, but now the superpowers are involved, they may have to accept that it is time to talk.