Turkey-Iraq: Troop withdrawal or re-organisation?
Comments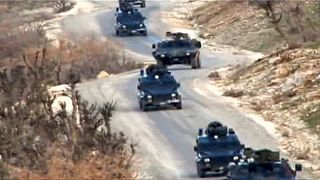 Turkish military convoy leaves Bashika camp near Mosul
Baghdad asked UN Security Council on Friday to tell Turkey to withdraw its troops
Ankara refuses withdrawal, but talks about "re-organisation"
Turkish troops helping train Peshmerga fighters to combat

ISIL

, who hold Mosul.
Turkish troops on the move near Mosul
A detachment of Turkish troops has left its camp close to the northern Iraqi city of Mosul.
The convoy of military vehicles, including tanks, has left the Bashika base
Some #Turkish troops deployed in #NorthernIraq's #Bashika camp leave for another site in Northern Iraq. pic.twitter.com/lTr2MLiJ7Q

— DiploTurk (@DiploTurk) 14 Décembre 2015
Turkish military sources say they are moving north.
Turkish PM vows not to deploy more troops to Bashika https://t.co/wPiirz9nv2 via YouTube</a></p>&mdash; BillyNightTrain (BillyNightTrain) 7 Décembre 2015
Training the Peshmerga
Two weeks ago, Ankara deployed hundreds of military personnel to the base near Mosul.
Iraq's second city is currently held by ISIL.
BAGHDAD: Iraq officially approaches UN Security council for Turkish Forces deployment in Iraqi territory pic.twitter.com/pggleyYNHg

— Times of lsIamabad (@TimesofIslambad) 12 Décembre 2015
Their presence is not welcome. On Friday, Baghdad asked the UN Security Council to order the Turkish forces out of Iraq.
#Iraq furious, Turkey expands training mission to #KRG#Peshmerga, Turkmen near #Mosulhttps://t.co/QJNc57fPIv#ISISpic.twitter.com/MDZF377NR1

— David Feeney (@Feeney4Batman) 9 Décembre 2015
Ankara say the troops are on site to protect people who are training Peshmerga fighters linked to the regional Iraqi Kurd government, along with other volunteers keen to fight the self-titled Islamic State.
Officials are refusing to withdraw their troops but say a re-organisation is possible.
Protests across Iraq
Iraq's fractured government faces pressure over Turkish troops as Shiites rally in Baghdad: https://t.co/5hkHI6Lki1

— The Associated Press (@AP) 12 Décembre 2015
Thousands of Iraqis protest against Turkey's troop deployment in north https://t.co/08lRfJgu6E

— Egypt &

MENA

Updates (@Egy_U) 12 Décembre 2015
Anti-Turkish protests have been held in several Iraqi cities.