Puppy love: the medically-marvellous mutts
Comments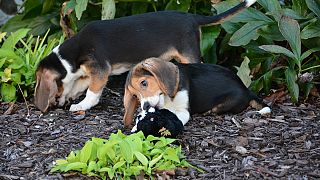 Each weighed three kilos at birth
2 girls (bitches) and five boys (dogs)
Birth is good news for canines and humans
AWW! These 7 half-pound mutts are the world's first test-tube puppies: https://t.co/PuwJdcVMSopic.twitter.com/x94IxU79o0

—

FOX

13 Tampa Bay (@FOX13News) 9 Décembre 2015
After years of attempts, the world has welcomed its first litter of test tube puppies.
The seven beagle and beagle-spaniel cross "puppies":
http://www.vet.cornell.edu/news/IVFpuppies.cfm were born in the summer to a surrogate mother in the United States.
The patter of tiny paws
The puppies have been named Ivy, Cannon, Beaker, Buddy, Nelly, Red and Green
All but one has been found a home to go to.
And now – The Science
The puppies' arrival has been heralded as a major step forward in medicine.
Researchers at their birthplace, Cornell University in the United States, say the in-vitro fertilisation technique's success paves the way for conserving endangered breeds like the African wild dog.
African wild dog pup having a mild not wild moment. #NatureBreakpic.twitter.com/pOtGZLypk3

— Oklahoma City Zoo (@okczoo) 11 Décembre 2015
There are hopes it could also help combat human and animal diseases.
The puppies all belong to the same litter.
However, they have three sets of parents. Frozen fertilised embryos were implanted into a surrogate mother who then carried the litter to term.
Not just Man's Best Friend
Researchers say the success of the procedure means IVF is potentially a powerful tool.
It could have value in the study of inherited dog – and human – diseases.
We share more than 350 similar diseases with our canine companions – almost twice as many as any other species.
Introducing the world's first #IVF#puppies! https://t.co/zP3dzp3zvADogSpies</a> <a href="https://twitter.com/TheDogDaily">TheDogDailyDogStory</a> <a href="https://t.co/pOGYKAZFi8">pic.twitter.com/pOGYKAZFi8</a></p>&mdash; Cornell Vet College (cornellvet) December 9, 2015