Fencing: Montano and Shen strike gold at Boston Grand Prix
Comments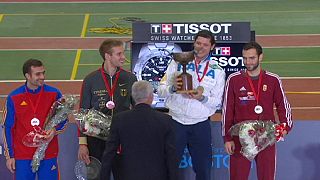 Italy's Aldo Montano returned to the fencing winners circle for the first time in almost a year following his victory at the Boston Grand Prix.
Held at Harvard University's Gordon Indoor Track over two days, the event gathered more than 300 of the world's best sabre fencers.
In a thrilling finale for gold Montano, the 2004 Olympic champion, overcame reigning Olympic champ Aron Szilagyi of Hungary 15-12.
It was a Chinese – Russian final in the women's competition.
Chen Shen overcame a sluggish start to eventually strike gold.
After trailing Viktoriya Kovaleva following the early exchanges, Chen regained her focus to fight her way back into the final and take the title winning through 15-10 for her best ever result in the Grand Prix series.
Previously she only won a silver medal at the 2014 World Cup in Beijing and bronze medal at the World Championship in Moscow this year.