Brazilians march in support of Rousseff impeachment
Comments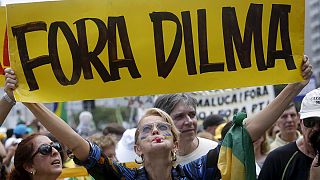 Hundreds of thousands of critics of President Dilma Rousseff have marched across several cities in Brazil to support impeachment proceedings opened by the Congress this month.
In the capital Brasilia, some 5,000 people marched towards the Congress, holding posters and shouting "Out Dilma".
Rousseff is not under investigation in the Petrobas kickback scandal but
many Brazilians blame her for the worst recession in 25 years which is being deepened by concern over the country's political future.
Sunday's demonstrations were largely calm with little of the violence that tarnished a wave of massive demonstrations in 2013, when Brazilians protested billions of dollars of spending to host the 2014 World Cup.